Dental Crowns & Bridges - Crown Point, IN
Reliable, Long-Lasting Solutions to Tooth Damage
Dental Crowns & Bridges
When a natural tooth has become injured, weakened, decayed, or even lost altogether, a custom-made dental crown or bridge from Ornelas Family Dentistry can work wonders in bringing back the strong, attractive dental structure you need to smile confidently. Dr. Ornelas uses high-quality, metal-free materials and works with only the best dental laboratories to exceed his patients' expectations time and time again. If you'd like to explore your restorative options in further detail, including dental crowns and bridges in Crown Point, IN, contact our dental office today.
Why Choose Ornelas Family Dentistry for Dental Crowns & Bridges?
Only The Best Materials, Including BruxZir® Solid Zirconia, E.max Ceramics & More
Highly Precise Customization For Optimal Fit & Feel
Partnerships With Trustworthy Dental Laboratories
What are Dental Crowns?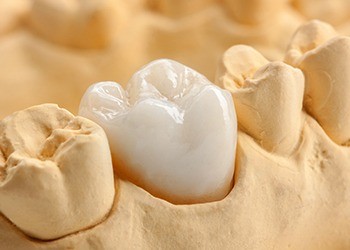 Dental crowns are highly versatile and attractive restorations that are designed to cover the remaining structure of a single tooth. This approach has two distinct benefits – not only is the original tooth better preserved, but its original shape, strength, and aesthetic appearance is replenished. Dr. Ornelas may recommend new, customized crowns in the following cases:
When a tooth is badly decayed
When a tooth has is cracked/fractured
When a tooth is weakened and may break in the near-future
When a tooth has a significant cosmetic imperfection
In most cases, the design and creation of a brand-new crown will take two appointments. After adjusting the tooth's shape and capturing impressions, Dr. Ornelas will send this information to a trusted dental laboratory and fit patients for a temporary crown in the interim for protection. Once our Crown Point dental office receives the new, permanent crown, you'll return for the final placement and any minor adjustments to ensure the most successful and stable fit possible.
What are Dental Bridges?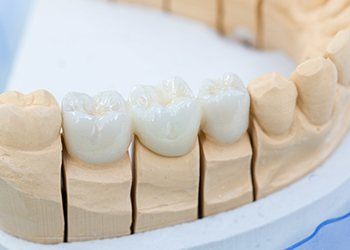 Dental bridges are named as such because they're designed to literally "bridge" the gap left by consecutive missing teeth. Traditional bridges are anchored in place through the use of dental crowns, which are attached to healthy teeth on either side of the gap. Today, though, Dr. Ornelas strongly recommends implant-retained dental bridges as a much healthier and more stable alternative. Instead of crowns, two placed dental implants will provide ample support that doesn't require the reduction of natural dental structure.