Dental Implants - Crown Point, IN
Replace Missing Teeth For Life
Dental Implants
In today's modern world, Dr. Ornelas strongly recommends dental implants for patients who have lost one or more natural teeth. This reconstructive service stands above the rest because of its comprehensive structure, unmatched stability, and incredible longevity – the new, finished "tooth" is virtually indistinguishable from the one that came before in every way! If you'd like to explore your options for replacement in greater detail, please contact us today in Crown Point, IN to schedule a consultation.
Why Choose Ornelas Family Dentistry for Dental Implants?
Partnering With Crown Point's Best Surgical Specialists
All-On-4 Prosthetics Available For Comprehensive, Cost-Effective Coverage
Insurance Accepted & Low-Interest Financing Available
Benefits of Dental Implants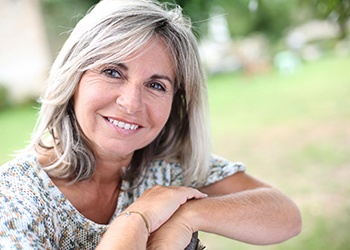 Your natural tooth has two components. There's the white crown that everyone's familiar with, and then there's a tooth root that's well-hidden inside the jawbone. Traditional tooth replacement services only bother with the crown, replenishing aesthetics; unfortunately, the bone tissue suffers from a lack of stimulation when a root is missing, which can lead to noticeable deterioration and higher risks for infection and additional tooth loss. Dental implants rise to the occasion by faithfully replicating every part of the tooth, starting with the stable root. This greatly improves the patient's oral health while also creating a brand-new smile addition that is virtually indistinguishable from the original tooth.
Additional benefits of implants include:
The placement of dental implants won't require remaining natural teeth to be significantly altered in any way.
There's no risk of "slippage" with implant-retained teeth.
Implant-retained teeth are so seamlessly attractive that most people can't even tell the difference between their presence and real, original teeth.
Dental implants are designed to thrive for decades. In fact, many patients are able to enjoy them for the rest of their lives.
Indications for Dental Implants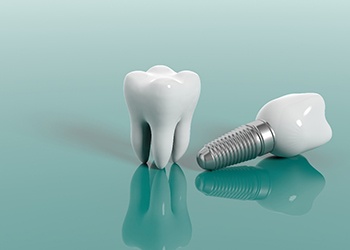 Have you lost one natural tooth? Are you struggling with several gaps throughout your smile? Dental implants can be successful for patients with a wide spectrum of reconstructive needs, and Dr. Ornelas will be sure to pair the ideal, custom-made restoration with your specific situation and preferences.
Missing One Tooth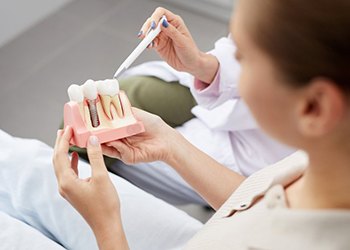 An implant-retained, all-ceramic dental crown is the perfect fit for individual dental implants. Its placement will fit right in alongside natural teeth and won't require any damaging alterations like a traditional bridge would.
Missing Multiple Teeth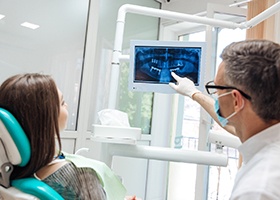 Implant-retained dental bridges can replenish multiple teeth in a row. Instead of relying on the support of dental crowns, two implants will be inserted into the jaw on either side of the affected gap to serve as "anchors," securing the new teeth safely and sturdily in place.
Missing All of Your Teeth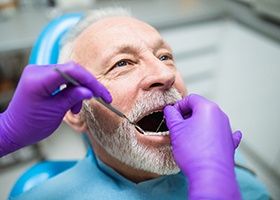 Implant-retained dentures can be effectively used to replace several teeth at once. Several options are available, including removable "overdentures," hybrid dentures that are fixed permanently, and All-On-4, where a new, full arch is anchored with just four strategic implants.
How Dental Implants Work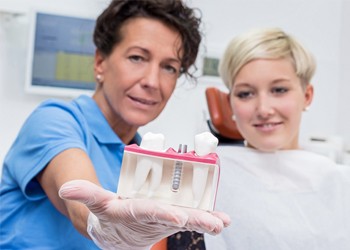 Dental implant supported tooth replacement is a multi-phase process that can take months or even years from start to finish, but the end result is a repaired smile that will last for decades. Every person's tooth replacement plan will be unique, but most implant tooth replacement processes include the following steps:
Before we begin the dental implant tooth replacement process, we may need to prepare your smile by removing damaged teeth or placing a bone or soft tissue graft.
Then, one or more implant posts are surgically placed into the gum tissue.
Next, the implant will need to fuse with the gum and bone tissue.
Once implants are fused with supportive structures, abutments are attached that anchor the replacement teeth to the implant posts.
After the abutments are placed, we design your replacement tooth or teeth.
When we receive the final restoration from our lab, you'll return for us to affix the crown, bridge, or denture to the implant posts.
Learn More About How Dental Implants Work
Partners with the Best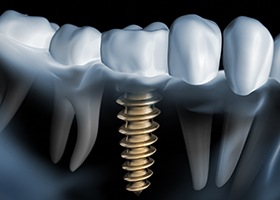 At Ornelas Family Dentistry, we strongly believe in providing our patients with the highest quality care possible. That's why Dr. Ornelas often partners with periodontists, oral surgeons, and other specialists in the Crown Point community – they handle the surgical insertion of the implant(s) into the jawbone, and he facilitates the design and creation of a brand-new, highly customized dental restoration that will fit over the top. By combining these clinical strengths, the end-result is an outstanding, replenished smile that will last for many, many years to come.
Understanding the Cost of Dental Implants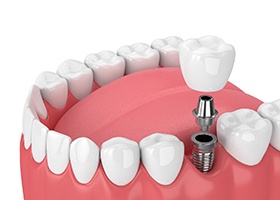 Determining the cost of dental implants is a more complicated question than most patients first realize. There are several components to this transformative procedure, including:
The surgical placement of the implant or implants themselves
The addition of an abutment (connector), which secures the eventual restoration to the implants
The design and creation of customized dental restorations that will cover the dental implants, such as implant-retained crowns, bridges, etc
Interested in dental implants? Dr. Ornelas would like to welcome you in for an in-depth consultation at his Crown Point practice. After assessing your smile's unique needs and current level of oral health, our team can provide confident price estimates for the overall procedure. We do ask patients to keep in mind that while dental implants may initially seem like a significant investment, they're designed to last for decades with very minimal maintenance in most cases. This means that their overall cost is often less than traditional dentures and bridges in the long-run, which are much more likely to require expensive replacements and repairs.