Dental Implants – Crown Point, IN
Replace Missing Teeth for Life
Dental Implants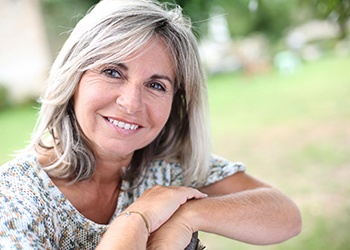 In today's modern world, Dr. Ornelas strongly recommends dental implants for patients who have lost one or more natural teeth. This reconstructive service stands above the rest because of its comprehensive structure, unmatched stability, and incredible longevity – the new, finished "tooth" is virtually indistinguishable from the one that came before it in every way! If you'd like to explore your options for tooth replacement in greater detail, please contact us today to schedule a consultation for dental implants in Crown Point, IN.
Why Choose Ornelas Family Dentistry for Dental Implants?
Partnered with Crown Point's Best Dental Implant Specialists
Insurance Accepted & Low-Interest Dental Financing Available
Bone Grafting Offered for Greater Dental Implant Success
What Are Dental Implants?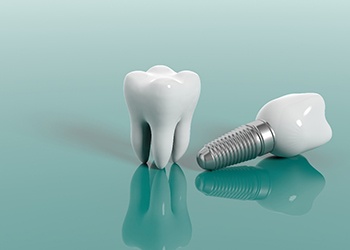 A dental implant is a surgical-grade titanium post that takes the place of a missing tooth root. The implant is completed with a dental crown that's made of a strong material, such as porcelain or ceramic, and matched to the existing shade of your smile to look very natural. After the implant itself is placed, it usually takes three to six months to fuse with the surrounding jawbone before the crown can be attached. This fusion process, called osseointegration, is what makes dental implants so reliable, durable, and natural-feeling. Multiple dental implant posts can also be placed in order to support a custom-made dental bridge or denture.
The 4-Step Dental Implant Process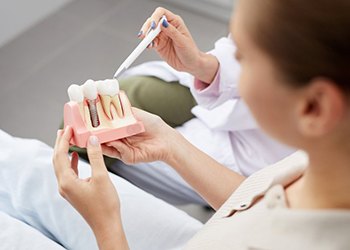 Dental implant-supported tooth replacement is a multi-phase process that can take months or even years from start to finish, but the end result is a repaired smile that will last for decades. Dr. Ornelas partners with periodontists, oral surgeons, and other specialists in the Crown Point community to ensure you receive the highest possible quality of care. Every person's tooth replacement plan will be unique, but the dental implant process usually includes these four steps:
Initial Dental Implant Consultation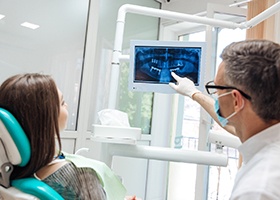 To get started, we'll schedule your tooth replacement consultation. During this first visit, we'll discuss all of your treatment options, not just dental implants, so you have all the information you need to make an informed decision about the best tooth replacement method for your unique situation. If we determine that dental implants are the best option, we may need to perform a number of preparatory treatments like tooth extractions and bone or soft tissue grafts. Then, we'll begin the process to surgically position your dental implant posts.
Dental Implant Surgery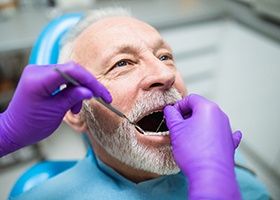 Following your treatment planning and preparation services, one of our partnered specialists surgically places the dental implant posts. This process is actually more conservative than many patients assume. A small incision is made in the soft tissue. Then, the implant post is precisely positioned into the jawbone.
Dental Implant Osseointegration/Abutment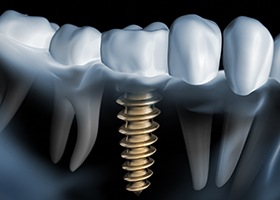 Once the implants are in place, it can take three to six months for the implant posts to fuse with the gum line. This process, known as osseointegration, is how the implant posts mimic the lost roots of missing teeth and recreate your smile. Following the osseointegration process, we attach connector pieces called abutments that affix the replacement teeth to the dental implants. When the abutments are in place, we'll capture bite impressions and design your replacement teeth.
Delivery of Dental Implant Restorations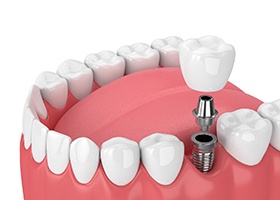 When we receive the replacement tooth or teeth from our lab, you'll come into our dental office in Crown Point for the final stage in your tooth replacement process. We'll affix your dental crown, bridge, or denture to the implant posts, recreating your healthy, beautiful smile.
Benefits of Dental Implants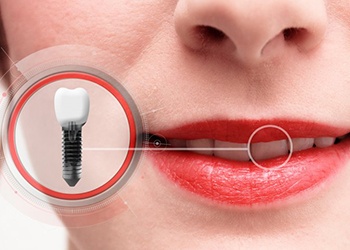 Your natural tooth has two components: the white crown that everyone's familiar with and the tooth root that's well-hidden inside the jawbone. Traditional tooth-replacement services only bother with the crown, replenishing aesthetics. Unfortunately, the bone tissue suffers from a lack of stimulation when a root is missing, which can lead to noticeable deterioration and higher risks for infection and additional tooth loss. Dental implants rise to the occasion by faithfully replicating every part of the tooth, starting with the stable root. This greatly improves the patient's oral health while also creating a brand-new smile addition that is virtually indistinguishable from the original tooth. Below, you can learn more about these incredible advantages.
Day-to-Day Benefits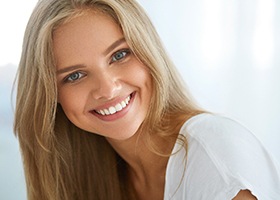 We use our teeth every day for basic tasks like eating and speaking. For that reason, it makes sense that you'd want something that'll allow you to enjoy these benefits with ease. Dental implants will grant you the freedom to live your day-to-day life with ease thanks to the following advantages:
Boost of Confidence. There's no risk of "slippage" with implant-supported teeth. You can eat, talk, and smile without having to worry about your teeth moving!
Easier Maintenance. Caring for dental implants is as easy as caring for your natural teeth. All you have to do is brush, floss, and rinse your mouth like you normally would.
Ability to Eat Most Foods. Because of their unique placement inside the jawbone, dental implants can withstand the chewing of virtually any food!
Health Benefits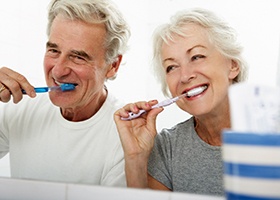 Aside from improving your daily quality of life, dental implants offer incredible health benefits. Some of those include:
Jawbone Preservation. Dental implants are surgically inserted into the jawbone, providing it with internal support. It helps prevent the bone loss that's common after tooth loss.
Protection for Natural Teeth. The placement of dental implants won't require the remaining natural teeth to be significantly altered in any way.
Improved Overall Health. Studies have shown a correlation between tooth loss and an increased risk of multiple diseases. Since dental implants resemble natural teeth, it's reasonable to believe they can help lower such risks.
Long-Term Benefits
By choosing to get dental implants in Crown Point, you can reap many short-term and long-term benefits, such as:
High Success Rate. Believe it or not, dental implants have an impressive success rate of about 90-95% even 20 years after they're placed.
Natural-Looking Appearance. Implant-retained teeth are so seamlessly attractive that most people can't even tell the difference between their presence and real, original teeth.
Long-Lasting Results. Dental implants are designed to thrive for decades. In fact, many patients are able to enjoy them for the rest of their lives.
Who Can Dental Implants Help?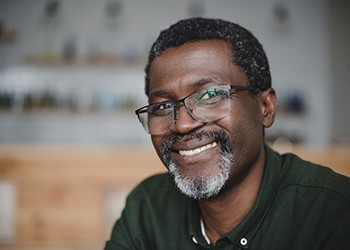 Whether you're missing a single tooth, several teeth, or all of them, dental implants in Crown Point are an incredibly versatile restorative solution that can be custom-tailored to address a variety of different patients' needs. From start-to-finish, our team at Ornelas Family Dentistry personalizes every detail of this procedure, so you can enjoy a smile that looks and feels completely natural because it's made just for you. To learn whether you're a good candidate for the treatment and how dental implants may be able to help you, read below.
Who is a Good Candidate for Dental Implants?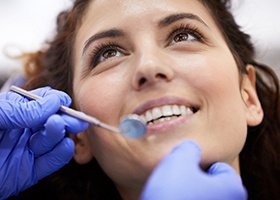 Not every patient is a good candidate for dental implants right off the bat, which is why the implant consultation is such a crucial part of the journey towards restoring your smile. At this initial visit, our team will capture X-rays and our implant dentist in Crown Point will conduct a thorough visual examination of your mouth and discuss your medical history with you. Based on our findings, we'll be able to outline all of your tooth replacement treatment options with you.
Here are a few qualities that we look for in a patient who's a good candidate for dental implants:
Sufficient jawbone density
Realistic expectations of the procedure
Missing one or more teeth
Having any existing medical conditions treated (like autoimmune diseases)
Dedicated to maintaining good oral health
Even if you don't meet all of the requirements listed above now, that doesn't mean that you can't get dental implants. Before some patients can move forward with their implant surgery, they may require a preparatory procedure, such as a bone graft, gum disease therapy, or a sinus lift, to make sure that the foundation of their smile can support the implant posts.
Missing One Tooth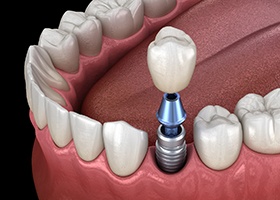 An all-ceramic dental crown is the perfect fit for individual dental implants. Its placement will fit right in alongside natural teeth and won't require any damaging alterations like a traditional bridge would.
Missing Multiple Teeth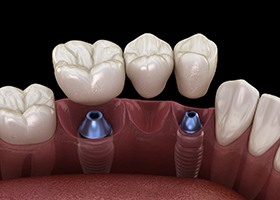 Implant-supported dental bridges can replenish multiple teeth in a row. Instead of relying on the support of dental crowns, two implants will be inserted into the jaw on either side of the affected gap to serve as "anchors," securing the new teeth safely and sturdily in place.
Missing All Teeth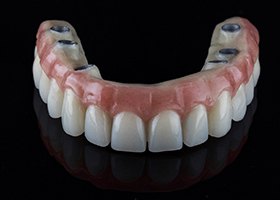 Implant dentures can be effectively used to replace several or even all of your teeth at once. Multiple options are available, including removable overdentures, hybrid dentures that are fixed permanently, and All-On-4, where a new, full arch is anchored with four strategically placed implants. All-on-4 dental implants is an especially great option for patients who don't want to undergo a bone graft procedures before their procedure.
Understanding the Cost of Dental Implants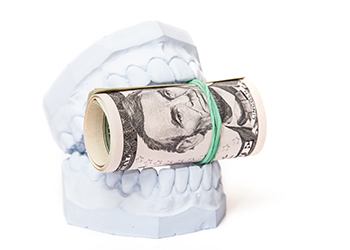 Determining the cost of dental implants is a more complicated question than most patients first realize. There are several components to this transformative procedure, including:
The surgical placement of the implant or implants themselves
The addition of an abutment (connector), which secures the eventual restoration to the implants
The design and creation of customized dental restorations that will cover the dental implants, such as crowns, bridges, etc.
While dental implants may initially seem like a significant investment, they're designed to last for decades with very minimal maintenance in most cases. This means that their overall cost is often less than traditional dentures and bridges in the long run, which are much more likely to require expensive replacements and repairs every few years.
Preliminary Treatments & Implant Surgery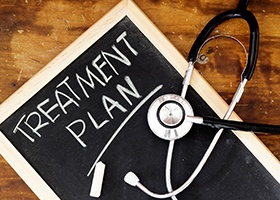 At your initial consultation, our team will outline each cost-determining factor of your dental implant treatment, including whether or not you require any preparatory procedures, like a bone graft, sinus lift, or periodontal therapy. Because Dr. Ornelas partners with dental implant specialists in the area, the payment process for treatment is more streamlined. After these preliminary treatments are complete, the dental implant surgery will incur its own separate cost.
Dental Implant Parts & Costs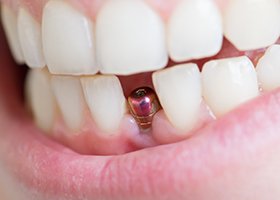 When it comes to restoring your smile, you don't have to worry about looking at alternative methods, no matter how many teeth are missing.
Single Tooth Implant – Combining a titanium implant (post), metal abutment, and custom dental crown, a single tooth implant can restore your smile even if only one tooth is missing. This will likely be the cheapest option when it comes to implants.
Implant Bridge – If two or more teeth are missing consecutively, an implant bridge can be placed. Using two implants, two metal abutments and a custom bridge prosthetic, you can see a fully restored smile.
Implant Denture – Considered the most expensive of the three types, implant dentures are designed to replace an entire row of teeth using between four and six implants and a fully customized denture. However, when comparing the cost to traditional dentures over time, those that are secured with implants are actually more cost-effective.
The Long-Term Cost Benefits of Dental Implants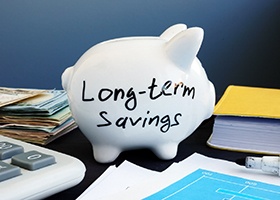 If you're worried your investment will not go far, don't be. Dental implants are considered to be far more superior to other methods of tooth replacement. The reasons are that they offer greater stability, functionality, longevity, and a more natural look and feel. But that's not the greatest part about them. Only with dental implants will your oral health truly be restored. Mimicking the natural tooth root when placed, your jawbone will continue to be stimulated, preventing any possible deterioration or weakening over time.
Does Dental Insurance Cover Dental Implants?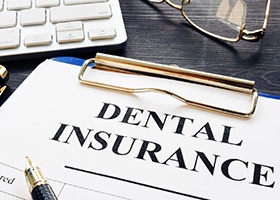 Depending on your individual plan, your insurance company may or may not cover your implants. While certain aspects of the treatment may be covered (i.e., anesthesia, restoration, consultation), the surgery itself is less likely. However, more and more insurance companies are realizing the need for dental implants instead of the "want," so if you need assistance in contacting your insurer, let a member of our staff know. They will be happy to work on your behalf to retrieve the information you need to make a confident decision about your dental health.
Making Dental Implants More Affordable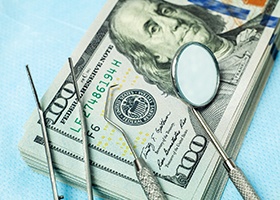 At Ornelas Family Dentistry, we offer several options to help you save throughout your journey towards completing your smile with dental implants, including our in-house dental savings plan that comes with a 15% off discount on all restorative services. In addition, Dr. Ornelas has set incredibly competitive pricing for this service and offers free consultations, so you can rest-assured knowing that you're getting the high-quality care you deserve at a reasonable rate.
Advanced Dental Implant Procedures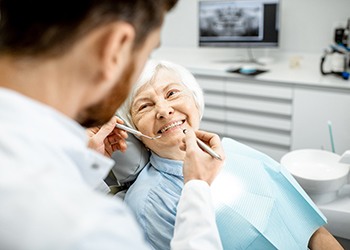 Dental implant surgery might not be performed right away. If we find that your jaw has lost a significant amount of bone density, the degraded areas will need to be built back up before we can proceed. Most of the time, this requires a procedure called bone grafting, where new bone tissue is transplanted into the jaw in order to encourage healing. If the upper molars were lost, a sinus lift might be required instead. These procedures ultimately give your new smile the foundation it needs to last for decades!
Bone Grafting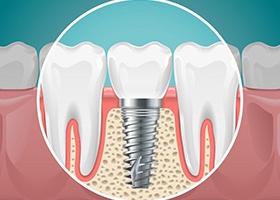 After a tooth is lost, the jawbone underneath it starts to break down. Of course, your body is perfectly capable of producing new tissue when required, but the problem is that without the stimulation that the tooth provided, the underlying area will be treated as if it's no longer needed. In order to restore bone density to the areas in the jaw where it was lost, entirely new tissue needs to be transplanted.
During a bone graft for dental implants, we'll typically use bone taken from elsewhere in your jaw, your hip, or another part of your body. If we need to, we can also apply tissue from a donor or use synthetic material. Whatever is used, the principle is the same: the graft is accepted by the body and encourages it to create new, living bone.
The initial recovery period after the dental implant procedure is about two weeks, but the jaw will typically still need time to create enough bone mass to support implant posts. This normally takes about three to six months, though the type of graft used, your body's general healing capabilities, and the complexity of the procedure will play a role in determining the exact waiting time. There are cases where you could receive dental implants immediately after grafting, however. Dr. Ornelas will discuss your estimated treatment timeline with you.
Sinus Lifts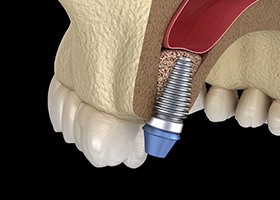 Because the sinus cavity is so close to the mouth, it often needs to be considered during certain oral procedures. In particular, it might get in the way if you need dental implant posts placed near the back of the upper jaw. It doesn't help that there generally tends to be less bone quantity in this area. Under these specific circumstances, a sinus lift might be performed.
A sinus lift involves opening the gums and cutting a small circle into the bone so that we can gently lift the sinuses away from your mouth. After that, graft material will be placed in the space left behind. Thus, with one procedure we can raise the sinuses and create new bone that will support your dental implants. As with a normal bone graft, it will typically be some time before the mouth has healed enough to move on to the next phase of implant placement (normally about four months to a year). Your mouth will be numbed during the procedure, so you can expect to feel little to no discomfort.
Dental Implants Post-Op Instructions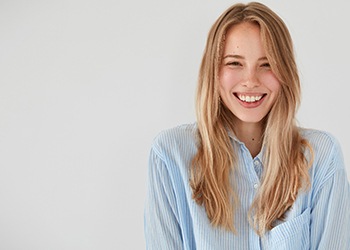 If you have never undergone dental surgery before, then you might not know what to expect from the procedure. The recovery period and healing time will vary from patient to patient. However, there are some common things you can expect as you heal from your dental implant surgery. During your appointment with us, we can discuss your aftercare guidelines in detail and answer any of your questions before leaving our office. Read along or give us a call to learn more about your dental implant post-op instructions in Crown Point.
What to Do Directly After Dental Implant Surgery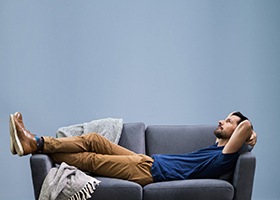 Once you've completed your dental implant procedure, you'll likely feel groggy and tired. Be sure to plan on resting for the remainder of your day once you return home. For many cases, we'll ask that you take your initial dose of prescribed pain relievers sometime before the effects of your local anesthesia completely wear off. You should also stay hydrated, but don't use a straw. Try your best to avoid touching the implant site with your tongue or fingers.
Common Side Effects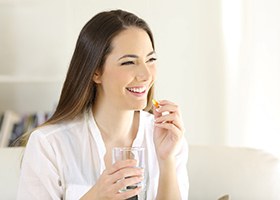 The two most common side effects of dental implant surgery are soreness and mild discomfort. These can easily be managed by taking your pain medication as directed. You can also use a cold compress or carefully munch on cold foods to alleviate any soreness. This should naturally fade away after a few days.
You may also experience occasional bleeding from the surgical site, as there will be a blood clot trying to form around the dental implant. You mustn't disturb this process, that way you avoid bleeding. There might be some swelling in your mouth and face, but this will go away on its own eventually. However, if any of these symptoms persist or worsen, be sure to reach out to us.
Diet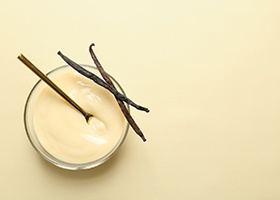 Sticking to a diet consisting of soft and nutritious foods will be essential for your recovery process after your dental implant surgery. After about one week, you may gradually add more solid meals if you feel ready. Before then, here are several soft treats you might consider:
Yogurt, pudding, and applesauce
Smoothies and ice cream
Pasta and scrambled eggs
Soup and mashed potatoes
Health & Oral Hygiene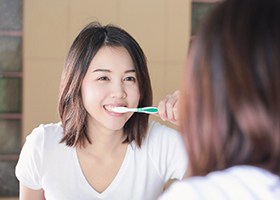 Make sure you begin brushing your pearly whites the morning after your dental implant procedure. Doing so will help clean your smile and keep your mouth free of debris and bacteria, which can cause infection in the implant site and lead to failure. To prevent irritating your soft oral tissues, try to practice the following precautions:
Brush gently around the dental implant site
Rinse with nonalcoholic mouthwash
Avoid spitting and instead, let the mouthwash pour out
What To Do After Your New Teeth Are Attached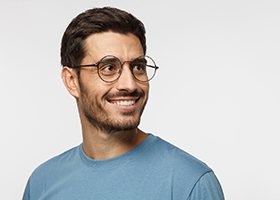 Although each person is different, you may feel that you've finished recovering after several days to a week. Even if this is so, you'll need to wait for your jawbone to completely heal over three to six months for osseointegration to occur successfully. This is the process where your bone tissue will bond with the dental implant so that it serves as your new permanent root. Once this has finished, you'll come back to our office so we can attach your restoration. You might expect some sensitivity in your gums for a few days, but this should go away when your mouth adjusts. Afterward, you can enjoy your fully restored smile for many years to come!
Maintaining & Caring For Your Dental Implants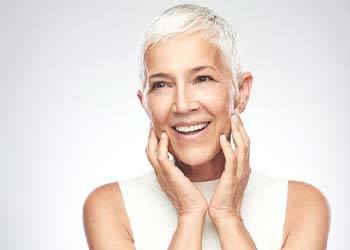 Dental implants are designed to last 30 years or even a lifetime. This unique benefit is what makes many people turn to these permanent prosthetics over traditional dentures and dental bridges. However, the only way to take full advantage of this is by practicing optimal dental implant care in Crown Point. Our team at Ornelas Family Dentistry is here to provide the tips you need to ensure a longer-lasting, healthy, and beautiful smile.
Making Oral Hygiene a Priority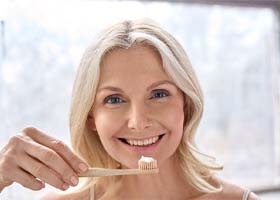 Dental implants in Crown Point cannot decay; however, that doesn't mean your natural teeth are exempt from potential cavities and infection. Also, your gums may be at risk for periodontal disease if not properly cared for. This is why brushing, flossing, and rinsing are essential. If any of these problems (i.e., tooth decay, gum disease) occur, it can negatively impact your dental implants and their lifespan.
Eating a Healthy Diet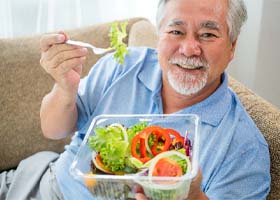 Healthy foods are always a better option for your oral and overall health. Sugars and starches are fine in moderation, but you should be prepared to clean your teeth and gums to avoid the potential for decay and gum disease. Leafy greens, lean proteins, fruits and vegetables, and calcium-enriched foods will give your dental implants a better chance for a longer life than consuming foods and beverages that contain lots of sugar.
Breaking Bad Habits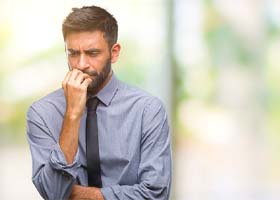 If you are prone to biting your nails, eating ice, smoking, or using your teeth as tools, it's time to quit. Any of these bad habits can cause significant damage to your real and artificial teeth. Trips to the emergency dentist will cause you to spend additional time and money trying to fix the investment made in your dental implants. Instead, find ways to give up these unhealthy habits. Sugarless gum, cessation groups and resources, and even finding the right tool for the job (i.e., opening a package) will protect your teeth from serious harm and allow you to continue enjoying your healthy smile.
Protecting Your Dental Implants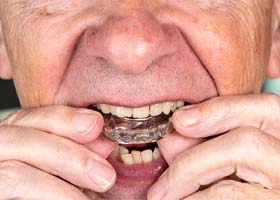 If you enjoy playing sports or worry that you might damage your dental implants because you tend to grind your teeth at night, it's time to consider how a customized mouthguard can be a worthwhile investment. These oral appliances create a protective cushion between your teeth and alleviate additional pressure placed on your pearly whites. Not only will you reduce wear and tear to your tooth enamel caused by bruxism, but you'll minimize your risk for serious injury should you sustain a hard hit while on the field, court, or track.
Scheduling Regular Dental Checkups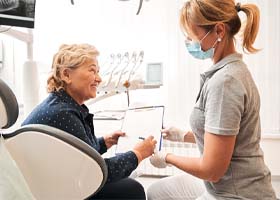 Meeting with your implant dentist in Crown Point every six months is necessary if you want your dental implants to remain firmly in place and free of serious problems year after year. These visits not only allow us to check for signs of decay, cavities, and gum disease, but they also give us the chance to evaluate your prosthetics and customized restorations for any minor or major damage. When caught early, we can use appropriate treatment to fix the problem and avoid more complex dental work in the future.
Dental Implant Technology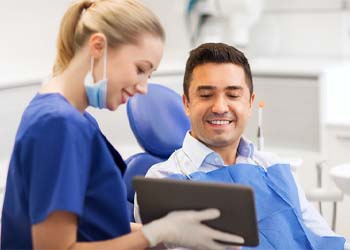 Dental implant technology in Crown Point has come a long way. Years of research and development are now making it possible for dentists to not only provide a more comfortable experience for patients but also ensure more accurate and precise treatment planning. When it comes to the placement of dental implants, preparation is key, which is why at Ornelas Family Dentistry, we are proud to provide 3D Cone Beam Imaging, Intraoral Cameras, and Digital X-Rays for optimal success.
3D Cone Beam Imaging/3D CT Scanning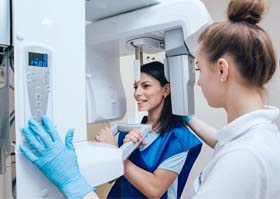 The 3D Cone Beam Imaging system is a state-of-the-art piece of equipment that takes a 360-degree scan of your oral and facial structures. Capturing hundreds of images, they culminate to create a single 3D image that allows your implant dentist in Crown Point to view the nerves, skull, teeth, gums, jawbone, and other facial structures. Not only does this provide the implant specialist with a full, clear image, but it serves as a road map for the proper placement of your dental implants when it comes to your oral procedure.
Digital X-Rays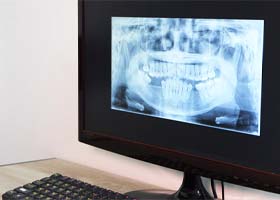 Unlike traditional radiographs that emitted more radiation and produced low-quality images, those used today are digital, making them a safer option. Not only do they minimize radiation exposure, but they capture high-resolution images of your teeth and any gaps that may be present. This allows our team to pinpoint areas that require dental implant placement as well as identify if there may be any signs of gum disease or tooth decay that need to be addressed first.
Intraoral Cameras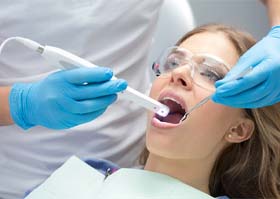 Intraoral cameras are a great way for dentists to show you, the patient, what they see when looking in your mouth. Commonly used during dental checkups and cleanings, these handheld devices can take high-resolution images of your teeth, gums, and any existing restorative dental work. Transferred onto a nearby computer screen, Dr. Ornelas can discuss whether you will require tooth extraction or even periodontal therapy before receiving your dental implants in Crown Point. These preliminary treatments are often necessary to ensure the success of your new prosthetics.
Dental Implant Frequently Asked Questions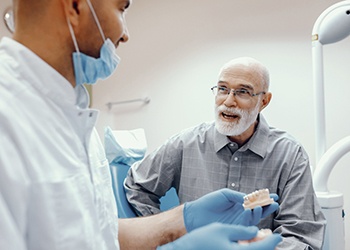 It's easy to see why dental implants have become the "gold standard" in tooth replacement: They offer a more natural look and feel than anything else and can potentially deliver decades of healthy, confident smiles. But if you still have questions about dental implants in Crown Point, you're not alone. Dr. Ornelas has helped many of our patients understand more about this outstanding solution for tooth loss and has put together answers to the questions he hears most often. But you can always contact us at any time with other questions if they arise. We're here to help!
How Long Do Dental Implants Last?
Because of their firm foundation in the jawbone, the average lifespan of dental implants is 30 years, which is several times longer than traditional dental bridges and dentures. Of course, this depends on how well you take care of your new teeth. Fortunately, maintaining your dental implants is easy to do, not to mention well worth it! With a few good habits, you can look forward to a lifetime of enjoying your replacement teeth.
It's still important to keep your implants clean because, although they can't get cavities, they can develop gum disease. They need strong, healthy gum tissue around them to keep them stable and in place, so good brushing and flossing is crucial.
Continue seeing us for regular checkups. If any problems develop, we can catch them and treat them as early as possible.
If you clench and grind, talk to us about wearing a nightguard. It won't stop you from doing it, but it can prevent the forces of clenching and grinding from damaging your implant.
Does Getting Dental Implants Hurt?
This is surprising to many patients, but dental implant surgery is not nearly as uncomfortable as you might think. First, we work with outstanding local surgeons who are highly trained to not only make the procedure successful but also as comfortable as possible. The first thing they'll do is make sure you're fully numb, and they also have sedation options for any patient who's especially anxious.
While the procedure itself shouldn't hurt, your mouth will most likely be sore for a few days afterward. Your oral surgeon will develop a pain management plan with you that involves the use of prescribed or OTC pain medications.
How Long Does It Take to Recover from Dental Implant Surgery?
Recovering after dental implant surgery could be compared to the recovery process after a tooth extraction, which typically takes five to seven days. However, much of your initial discomfort will pass within two to three days, so we recommend that you take a few days off work or school to rest afterward.
It's important to note that this is different from the osseointegration process in which the implant slowly integrates with the surrounding jawbone. This process usually takes three to six months, after which your implant (or implants) will be completed with a dental crown, bridge, or denture.
How Successful Are Dental Implants?
As an implant dentist in Crown Point with your best interests at heart, Dr. Ornelas feels great about recommending dental implants because of their high success rate. In non-smokers, it's around 98%, but since that drops to 85% in smokers, we recommend that you quit smoking before having the procedure done.