Dentures – Crown Point, IN
Regain a Comfortable, Confident, and Complete Smile
Do you have a few gaps in your smile? Are you missing an entire arch of pearly whites? If so, you're certainly not alone! Studies report that over 120 million Americans are missing at least one tooth, and more than 36 million don't have any teeth left. Tooth loss can take a huge toll on your confidence and quality of life. That's why at Ornelas Family Dentistry, we're happy to help you regain a comfortable, confident, and complete smile with dentures in Crown Point, IN! These classic restorations are precisely crafted from high-quality materials, so they're more lifelike and functional than ever before. Call us today to schedule your consultation to see how dentures can improve your life!
Why Choose Ornelas Family Dentistry for Dentures?
DURABLE AND BEAUTIFUL MATERIALS FOR SEAMLESS TOOTH REPLACEMENT
COMPASSIONATE DENTAL TEAM WITH YEARS OF EXPERIENCE
COMPLETELY CUSTOM-MADE RESTORATIONS FOR YOUR UNIQUE SMILE
Who is a Good Candidate for Dentures?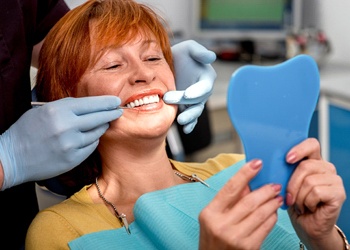 Because tooth loss can cause you to experience an array of problems as it pertains to your ability to speak, eat, and function normally day-in and day-out, you may feel as if there is no way you will ever recapture that full, complete smile. But the good news is that almost any adult who is missing most or all their natural teeth is likely to be considered a good candidate for dentures!
However, it's important that your mouth is healthy before we fit you with dentures. If needed, we'll help you address tooth decay, gum disease, teeth that need to be extracted, and other oral health issues to get you ready for your brand-new smile!
What Are the Different Types of Dentures?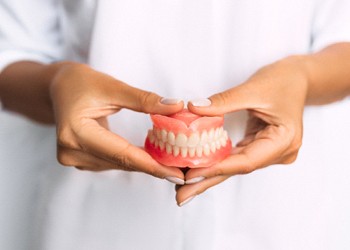 Dentures are a great way to replace multiple missing teeth quickly and affordably. During your consultation with our dentist in Crown Point, Dr. Joe Ornelas will carefully inspect your mouth and go over all your tooth replacement options. We offer several types of dentures, including:
Partial Dentures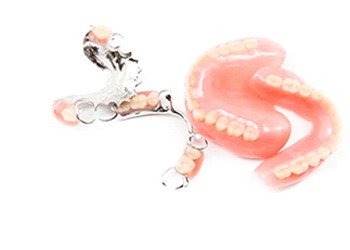 If you're missing several teeth in a row, a partial denture may be a great choice. Having multiple missing teeth can make it difficult to eat or chew, resulting in embarrassment and the inability to consume beneficial nutrients to improve your overall health. However, a partial can be the answer to your problem. Much like a puzzle piece, partial dentures have a gum-colored base and artificial teeth that are designed to fit perfectly in the empty spaces between your remaining teeth. They're held securely in place with discrete metal clasps that wrap around your natural tooth structure.
Full Dentures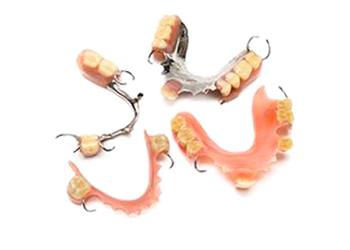 Full dentures can replace an entire arch of missing teeth at once. For this restoration, custom-made replacement teeth are set into an acrylic, gum-colored base. The base is precisely crafted to ensure it fits comfortably but snugly on top of your gums. This creates a strong natural suction that firmly holds your new teeth in place. Although you may find it beneficial to apply a small bit of dental adhesive for added security.
Dental Implant Supported Dentures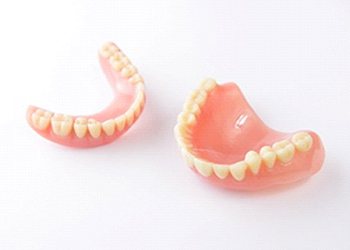 As an alternative to traditional, removable dentures, you could choose to anchor your new teeth into place with dental implants. For this method, several small titanium posts are placed into your jawbone to support your dentures above the gumline. Not only does this make them the most comfortable, stable, and functional option, but dental implants also help preserve your jawbone and facial features, allowing you to enjoy a fuller, more complete aesthetic that can only be achieved with implant dentures.
Benefits of Dentures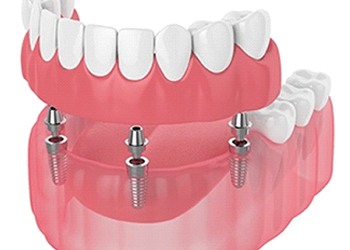 Dentures offer an array of benefits that make it possible for individuals experiencing tooth loss to once again, feel confident in their appearance. Not only will these prosthetics make eating and speaking much easier, but they will last years as long as you continue to take proper care of them. Many of the most common benefits denture-wearers experience include:
A customizable process that ensures your prosthetic is designed according to your specific needs with techniques following dimensions, color, size, and shape as a blueprint for your dentures
The ability to regain your smile right away and start feeling more confident in your appearance
A more affordable way to replace missing teeth
The ability to speak more clearly, chew easily, and enjoy a full, varied diet
Prosthetics that are made of modern materials designed with a natural appearance in mind while also offering greater durability and resistance to stains
The opportunity to maintain a fuller facial shape, creating a more youthful aesthetic
A tooth replacement solution that is easy to clean and maintain
Understanding the Cost of Dentures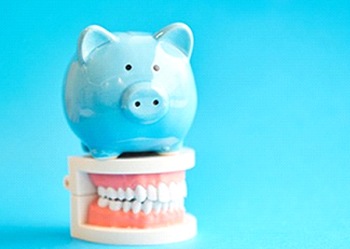 The cost of your dentures will depend on several unique factors, including your oral health, the type of denture you want, and whether you need any preliminary treatments. In most cases, dental insurance will cover at least a portion of the cost of dentures. We'll be more than happy to file your claims for you and ensure you're maximizing your benefits. In addition, we also offer an in-house dental savings plan and financing options through CareCredit. During your consultation, we'll go over your estimate as well as all the ways to make your new smile as affordable as possible.
<Learn More About the Cost of Dentures>
DENTURES Frequently Asked QuestionS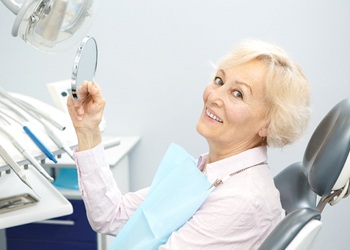 If you're suffering from moderate to severe tooth loss, dentures in Crown Point are a classic, reliable way to restore your full smile! These popular restorations are made of high-quality materials and the latest dental technology to ensure that they're as comfortable and lifelike as possible. During your consultation, we'll be happy to answer all your questions and go over every detail of replacing your missing teeth. In the meantime, we encourage you to review these FAQs about dentures to learn more about them!
Do Dentures Have to Be Kept in Water?
Custom-made dentures are carefully designed to form a snug fit over your gums, which creates a strong natural suction to keep them in place. If your dentures dry out, however, they may warp and lose their shape, and in turn, their comfortable fit. Any time your dentures are out of your mouth, they should be kept in a glass of water or cleaning solution to ensure they maintain their shape. This also helps keep all the nooks and crannies clean and free of bacteria.
How Many Hours a Day Should I Wear My Dentures?
No one wants to be caught without their teeth, but you shouldn't wear your dentures 24/7. For the first week or so after getting your dentures, we may recommend that you wear them to sleep to help your mouth adjust. However, after that, you need to take them out every night, brush them off, and soak them overnight. Not only does this prevent plaque and bacteria from building up on your dentures as you sleep, but it encourages healthier gum tissue as well.
Will Wearing Dentures Irritate My Gums?
Custom-made dentures that fit properly shouldn't cause any discomfort at all. Even so, it's important to keep in mind that your mouth will naturally change shape over time as a result of your tooth loss, and your dentures will not change with it. Over the course of several years, they will eventually lose their close fit. This means they won't rest as comfortably on your gums and wearing ill-fitting dentures may lead to gum irritation or sores. That's why you should visit your dentist regularly for checkups and replacements to ensure your new smile stays healthy.
How Long Do Dentures Last?
Modern-day dentures are made of strong, reliable, and durable materials. On average, you can expect a set of removable dentures to last between seven and ten years before needing to be replaced. In some cases, they can last even longer with the proper care. Make sure you're using the right cleaning products on your dentures and handle them carefully to make the most of their lifespan.
Implant dentures, on the other hand, have the potential to last much longer! Thanks to their unique placement, dental implants literally become a part of your jawbone. In most cases, patients can expect to enjoy their newly rebuilt smile for a lifetime!