Dental Implant-Supported Dentures – Crown Point, IN
Trusted, Superior Prosthetics for a Longer-Lasting Smile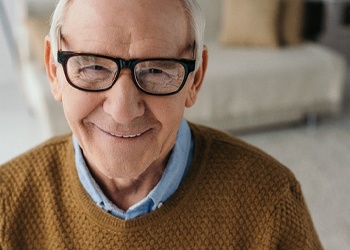 Implant dentures in Crown Point are a superior form of tooth replacement. When living with tooth loss, you may believe you'll never regain the confidence and aesthetics you once had, nor will you effectively eat and speak without feeling embarrassed. However, the team at Ornelas Family Dentistry is here to tell you that is not the case at all! With the help of a trusted team of experts, you can recapture a more youthful appearance, improve your oral function, and embrace a better quality of life. Unlike dentures that can slip, you'll feel more confident than ever when eating or speaking. If you're ready to take back your smile with the help of dental implant-supported dentures in Crown Point, IN, call our dental office today to schedule a consultation.
Why Choose Ornelas Family Dentistry for Dental Implant-Supported Dentures?
Partner with Best Oral Surgeons in Crown Point
Highest Quality Materials Used to Fabricate Restorations
Dental Insurance Accepted & Flexible Financing Available
What Are Dental Implant-Supported Dentures?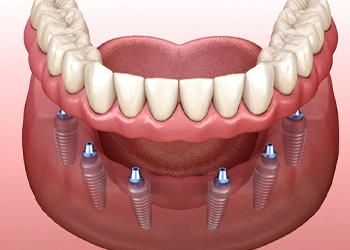 Implant dentures are considered the gold standard when it comes to replacing missing teeth. Typically using between 4-6 titanium posts, these implants are surgically placed into the jawbone and fuse over time to create a solid and stable foundation. Dentures require natural suction to remain in place as well as dental adhesives; however, with an implant denture, you'll never have to worry about an accidental slip while eating or speaking. You can, instead, feel confident in your new smile because of its permanence and allowance of optimal oral function.
In fact, by choosing dental implants, you will join more than 3 million others who are already experiencing the great advantages that come with this trusted and unique tooth replacement solution.
When meeting with your implant dentist in Crown Point, he will go over two available options:
Fixed/Permanent Implant Dentures
This hybrid-style prosthetic uses between 4-6 dental implants and cannot be removed unless it is by Dr. Ornelas. Designed with metal abutments that connect to the implant, a customized denture is then secured into place.
Removable Implant Dentures
Known as an overdenture, this style of implant denture makes it possible to remove your own prosthetic each night. Because it requires fewer implants (between 2-5), you may not need as much jawbone density.
The Dental Implant-Supported Denture Process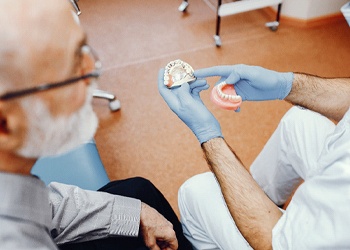 The process for receiving implant dentures can take ample time. On average, it can take several months or even a year to complete, especially if you require preliminary treatments like bone grafting or tooth extraction. Because we do not place the implants in-house, you will be referred to a local oral surgeon who will work closely with Dr. Ornelas to ensure the success of your implant placement. The process for receiving your permanent prosthetics will look something like the following:
You will schedule a consultation with your implant dentist in Crown Point who will determine if you are a qualified candidate. If necessary, you will be recommended for preliminary treatments to better prepare your oral cavity and facial structure for implants.
You will undergo dental implant surgery that involves receiving anesthesia to numb certain areas of your mouth. Small incisions are then made in the gums before each implant is placed and angled for maximum support. The oral surgeon will then close the gum tissue and place a protective cap over the implant.
Over the next several months, you will recover at home while allowing osseointegration to complete. This is the fusing of your implants to your bone and surrounding tissue.
After you've healed, you will return to receive your metal abutments that will hold your custom restoration into place.
The last step is receiving your implant denture that will be crafted by lab technicians. The final product will blend in beautifully with your smile, looking and feeling completely natural.
Am I a Candidate for Dental Implant-Supported Dentures?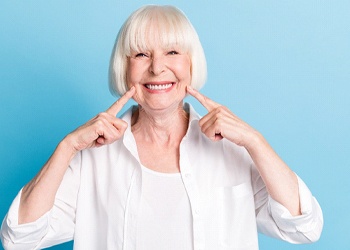 It is not uncommon for many patients to assume they are not candidates for implant dentures. It's important that you not allow this mindset to lead your decision-making process, as it is only Dr. Ornelas who can decide if you are eligible. By scheduling a consultation with him, he can fully examine your smile and determine if you can move ahead with implants or undergo additional procedures to create a more structurally sound environment for implant dentures at a later time.
To be considered for implant dentures, you will need to:
Have enough jawbone density to support your implants and implant denture
Be healthy enough to undergo minor oral surgery
Remain committed to maintaining good oral hygiene to ensure the longevity of your implants
Benefits of Combining Dentures & Dental Implants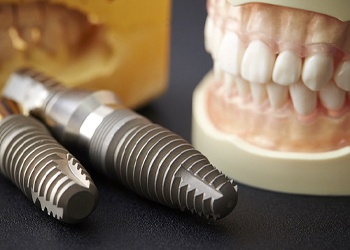 As you contemplate the idea of dental implants in Crown Point, you will discover that the benefits far outweigh more traditional tooth replacement solutions, some of which include:
A permanent restoration that can last 30 years or an entire lifetime with proper care and maintenance
The ability to embrace a better quality of life that allows you to feel confident when eating, speaking, and engaging with others
Improved functionality while consuming food and speaking
The potential for a longer lifespan by replacing missing teeth and lower your risk for more serious health issues (i.e., diabetes, cardiovascular disease, etc.).
A fuller, more youthful appearance because of the continuous stimulation delivered to your jawbone as a result of your implants
Little to no soft tissue irritation
What Are All-On-4 Dental Implants?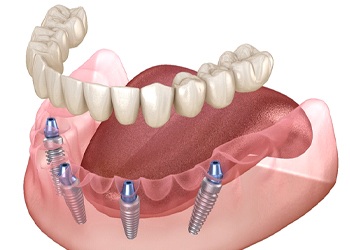 If you've learned you are ineligible for traditional implant dentures and prefer to avoid preliminary treatments like bone grafting or sinus lifts, you may be eligible to receive All-On-4. This unique tooth replacement option is similar to dental implants; however, they only require the use of 4 dental implants to be placed in the densest areas of the jawbone. Allowing you to forgo additional treatments, you can enjoy a healthier, more permanent smile in less time.