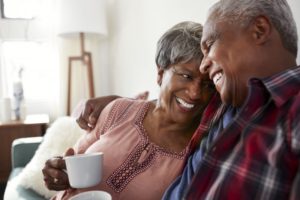 Is your daily quality of life suffering because of your missing teeth? Dental implants in Crown Point are one of the most advanced modern restoration treatments available to patients today. They don't just replace the biting surface of your teeth like traditional restorations, but they also help preserve your jawbone and oral health by also restoring the roots of your missing teeth. Through the process of fusing with your jawbone, called osseointegration, you'll be getting long-lasting and durable replacement teeth. Read on to learn how long your implants will last you.
What's the Science Behind Dental Implants?
Dental implants are made from titanium for a reason, because they're able to fuse with your jawbone. This metal is lightweight and has a high oxygen affinity, which means it forms an oxide layer that helps prevent deterioration after they're placed in your gums. Because they're so light, they can help reduce and evenly distribute the weight that's placed on your jaw. For these reasons, your implants are able to integrate with the rest of your mouth and give you a long-lasting restorative solution that helps preserve your jawbone and improve your quality of life.
How Long Can Your Implants Last You?
One reason that patients often choose dental implants over traditional restorations is because they know that having a crown, bridge, or dentures means they often need to be re-fitted or replaced. Your mouth is constantly adjusting and changing when these replacements don't. They can also compromise the structure of your natural tooth, which leaves them susceptible to decay and cavities.
If you get implants, you won't need to worry about regularly getting them re-fitted or replaced. Plus, they boast an impressive 95% success rate. Typically, with proper treatment and care, your implants can last you over 25 years. Because the modern implant procedure was perfected a little more than 50 years ago, it's difficult to guarantee that they'll last you a lifetime because there aren't many long-term studies available.
What's the Best Way to Get the Most Out of Your Implants?
After investing money and time into your dental implants, it makes sense that you'll want to know how you can enjoy them for decades to come. When you keep up with your oral hygiene by brushing and flossing regularly and quit any bad oral habits you may have, you can reduce your risk of implant failure and keep them looking and feeling great. Additionally, it's best to routinely visit your dentist in Crown Point for checkups and cleanings so they can catch and treat the small problems before they turn into anything to worry about.
Dental implants are a great option for anybody suffering from missing teeth. When you follow your dentist's post-procedure instructions and look after your new restorations, you can enjoy them and all the benefits they have to offer you for decades to come.
About the Author
Dr. Joe Ornelas has grown up in Crown Point and is passionate about improving and restoring his neighbors' oral health and quality of lives through high-quality dental care. He continues his education by routinely taking courses that sharpen his skills. As an active member of multiple professional organizations, he strives to keep up-to-date with the latest advancements in his field. For questions or to schedule a consultation for dental implants, visit Ornelas Family Dentistry's website or contact 219-663-2892.