All-On-4 – Crown Point, IN
Helping Patients Achieve the Smiles They Deserve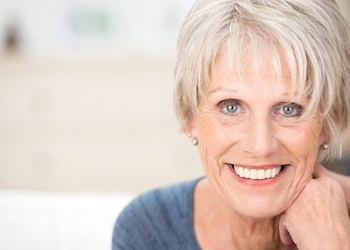 Learning you don't qualify for dental implants can be disheartening. Fortunately, this doesn't have to be a lifelong reality. With All-On-4, Dr. Ornelas and his team can place implant-retained dentures in Crown Point and give you a fully restored, longer-lasting smile. While traditional implants require that you have a strong, stable jawbone to effectively place between 4 and 6 posts, All-On-4 uses only 4 strategically placed implants to repair your smile. Find out how you can get started on replacing your missing teeth by contacting us today.
Why Choose Ornelas Family Dentistry for All-On-4?
Start-to-Finish Treatment In-House
Highly-Skilled and Qualified Dentist and Dental Team
Personalized Care for Your Individual Needs
How Do All-On-4 Implants Work?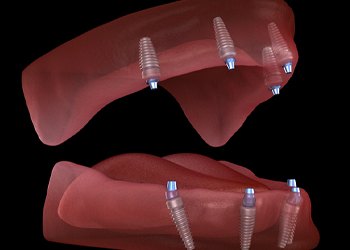 All-On-4 uses four dental implants in Crown Point to hold your implant-retained denture in place. Instead of requiring that your entire jawbone have enough density to hold up your restoration, Dr. Ornelas will examine your entire bone and determine the four areas that are the densest. This will allow him to effectively plan where to place the posts for the greatest support.
Depending on your individual case, Dr. Ornelas may place the implants himself or work closely with a local specialist. During the procedure, two of the implants will be placed at an angle toward the front of your mouth and the other two will be positioned in the back of your mouth. Once in place, you will receive a temporary prosthetic to wear while your custom-made denture is created by dental lab technicians. This will allow you to see a fully restored smile much quicker than with traditional implants.
Am I a Candidate for All-On-4 Implants?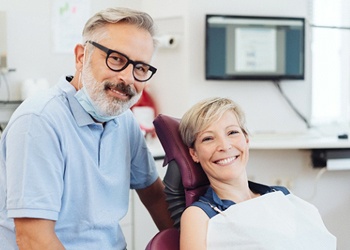 If you have gum disease, use tobacco products or smoke, or if you have diabetes or another autoimmune disorder, All-On-4 may not be right for you. Otherwise, if you are missing all or most of your teeth and are in good oral health, you might just be a qualified candidate for All-On-4. It will be important for your dentist in Crown Point to review your oral and overall health history as well as perform a thorough examination to check your teeth, gums, jawbone, and facial structure prior to treatment.
What Are the Benefits of All-On-4 Implants?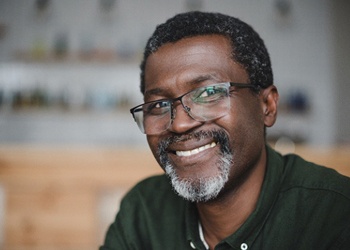 When learning dental implants are not possible, you may be upset by this realization; however, once you learn all the incredible benefits of All-On-4, you'll be glad to move forward with this restorative solution:
Greater smile appearance
Boost in confidence
Quicker results than with regular dental implants
More affordable
Only 4 implants required as opposed to needing between 4 and 6
Full functionality when eating, speaking, and chewing
No chance of decay to your implants
A restoration that can last 30+ years with proper care and maintenance
All-On-4 vs. Traditional Dental Implants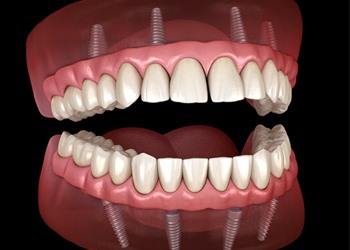 When comparing All-On-4 to traditional implants, there are a few differences:
Traditional implants require that you have a full jawbone that is sturdy and dense. All-On-4 uses the four strongest areas of your jawbone to effectively place and restore your smile.
If you prefer dental implants but don't have a strong jawbone, you will need to undergo a bone graft or sinus lift and wait several months before having your implants placed. All-On-4 eliminates the need for pre-implant dental work.
Fewer implants are used with All-On-4 as compared to traditional dental implants.
You can receive a temporary denture while you heal and wait for your finalized restoration to be completed.