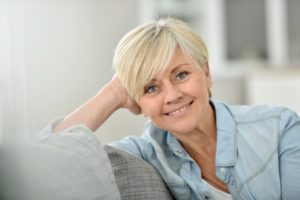 Sometimes you don't realize how valuable something is until you're without it. You may have had this epiphany after loosing any number of your teeth, as it's now harder to eat and speak normally. Thankfully, there are replacement methods available, two of which are dentures and dental implants in Crown Point. Read on for a comparison of these methods from the perspectives of functionality, aesthetics and longevity, so you can get an idea of which is better to restore your smile and your way of life!
The Denture Process Explained
A traditional set of dentures consists of porcelain teeth that are affixed to a pink resin base that is designed to mimic the appearance of the gums. Resting on the gums, the appliances are held in place with dental adhesive and the natural suction created inside the mouth.
What are Dental Implants?
Made from high-grade titanium, dental implants are cylinder-shaped rods that are attached to the jawbone to re-create the stability provided by the original roots of the teeth. The fixtures are secured through a process called osseointegration, which is the name given to the process of new bone cells fusing with the implant.
A Comparison of the Two Replacement Methods
To aid in your decision about which direction to take for replacing your missing teeth, here is a comparison of the two procedures.
Functionality
From a functional standpoint, a traditional set of dentures usually restores up to 25% of the original chewing capacity. By being attached deep beneath the gum line, though, dental implants can restore up to 75% of the natural chewing capacity, which allows for better digestion.
Furthermore, there is less chance of shifting with implant-supported dentures, and they provide a more enjoyable eating experience since they don't cover the palate like traditional dentures.
Aesthetics
Another advantage of the dental implant mimicking the tooth's root is that it creates a more realistic and aesthetically-pleasing smile. That amounts to a boost in your confidence and no more shying away from photos!
Longevity
Usually, you can expect a set of dentures to last around 10-15 years with proper care. However, when you have dental implants placed, as long as you brush and floss at least two times a day, limit your consumption of foods and beverages high in sugar and abstain from consuming certain items like hard nuts and ice, you can enjoy your new smile for the rest of your life.
Although you've had some hard times living without your teeth, you now have a window of opportunity open. To have your smile revamped and your life restored to normal, contact your dentist in Crown Point to schedule a visit today!
About the Author        
Dr. Joe Ornelas earned his dental degree from Indiana University School of Dentistry. He has since remained dedicated to learning, which is why he has taken hours of continuing education courses. Dr. Ornelas helps reconstruct smiles and lives by placing dental implants at Ornelas Family Dentistry, and he can be reached for more information through his website.