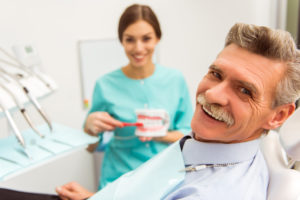 Dental implants are one of the most popular ways to replace missing teeth, with the American Dental Association estimating that dentists place roughly 5 million implants each year. However, did you know that there are actually different types of dental implants? If you are missing one or multiple teeth, understanding the variety of implants can help you decide if implant treatment is right to restore your smile. To that end, here is a helpful overview of the most common types of dental implants in Crown Point.

3 Common Types of Dental Implants in Crown Point
The three most common types of dental implants include endosteal, subperiosteal, and zygomatic. Never heard these terms before? Do not worry, here is a brief overview of how each one works to replace missing teeth:
Endosteal Implants
The most common type of implants, endosteal implants are typically small titanium screws that are surgically inserted into the jawbone. Over the course of several months, the implants fuse with the surrounding jawbone through a natural process called "osseointegration". Once healed, false teeth are fitted onto the implants. Endosteal implants usually require the patient to have a strong, healthy jawbone.
Subperiosteal Implants
An alternative to the above approach can be found in subperiosteal implants. Instead of a post inserted into the jawbone, subperiosteal implants rely on metal frames that rest on top of the bone but under the gums. The gums heal around the metal frame to secure it firmly in place. A small post is then attached to the metal frame and a false tooth is secured to the post. Subperiosteal implants are often recommended for patients who do not have sufficient jawbone depth for endosteal implants and do not want to undergo a bone graft procedure.
Zygomatic Implants
The least common type of dental implants in Crown Point are zygomatic implants. This more complicated procedure involves placing implants in the cheekbone rather than the jawbone. Zygomatic implants are usually longer than endosteal implants and only used when a patient has experienced significant bone loss in the jaw and cannot support more traditional implant treatment.
Which Type of Dental Implant Is Best for Me?
Which type of dental implants are right for your unique smile will depend on a number of factors, including the strength of your jawbone, your overall oral health and your individual smile goals. If you are unsure of which dental implant discussed above you should choose, do not worry! Any final decision on how to replace your missing teeth should be made in consultation with an experienced dental professional.
Get the beautiful, full set of teeth that you deserve! Join the millions of Americans that restore their smiles each year with dental implants by talking to your dentist in Crown Point today.
About the Author
Dr. Joe Ornelas helps restore smiles in Crown Point with a full range of high-quality dental implant procedures. The Indiana native and proud Indiana University School of Dentistry graduate routinely takes continuing education courses to stay up to date on the latest dental medicine advances and technologies. Patients interested in rejuvenating their smiles with dental implants can learn more by visiting the Ornelas Family Dentistry website or calling 219-663-2892.