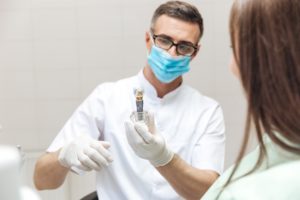 Your teeth are crucial to your general health and overall quality of life. Unfortunately, if your mouth has suffered the consequences of significant decay, gum disease, or trauma, every day can consist of pain and embarrassment. You can turn back the clock to enjoy a stunning, confident, and pain-free smile again with full mouth reconstruction. Specific restorative procedures can transform your teeth. Although every plan differs, here are 5 solutions that can give you the smile you deserve.
1. Tooth-Colored Fillings
Fillings are an effective, affordable solution to treat decay to preserve the tooth. You may even have a few fillings already. Cavities and metal fillings don't have to be the focal points of your smile. Whether needed for new decay or to replace old fillings, you can restore your oral health using a tooth-colored solution. A composite resin material is shaded to match your enamel to blend in with your teeth.
2. All-Ceramic Dental Crowns
Advanced decay can be too severe to use a filling. Instead, a dental crown can treat a large cavity. The versatile cap covers the entire surface of a tooth above the gum line to reinstate its health, function, and appearance. Crowns can fix several issues, like breaks and fractures. They can also be used along with other procedures in your treatment plan, like root canal therapy. No matter the reason, modern crowns are made of all-ceramic material to look like a real tooth.
3. Fixed Bridges
If you've lost a tooth or two over the years, you're not alone. 120 million adults have lost at least one tooth. You have more options than ever to replace missing teeth; however, a bridge is a tried-and-proven solution for consecutive tooth loss. Your dentist will take an impression of your mouth to recreate the portions of your teeth above the gum line. They are carefully crafted to match your remaining teeth, so no one will know they aren't your own. Your bridge can be held in place using crowns on the adjacent teeth or dental implants.
4. Dentures & Partials
If your teeth are severely damaged, it can be more cost-effective to extract and replace them with dentures. Your dentist will examine your smile to determine if any remaining teeth can be saved to restore a complete smile using a partial. If your teeth are beyond repair or you've lost them all, a full denture can treat an entire arch. As an alternative to a traditional denture, ask your dentist about adding the stability of dental implants.
Full mouth reconstruction is a big investment. You don't have to navigate the process alone. Your dentist will help you choose the best procedures to achieve the smile of your dreams.
About Dr. Joe Ornelas
Dr. Ornelas earned his dental degree at the Indiana University School of Dentistry. He regularly continues his training in advanced specialties, like full mouth reconstruction and dental implants. If you're ready to better your smile and oral health, contact our office today to schedule your consultation.