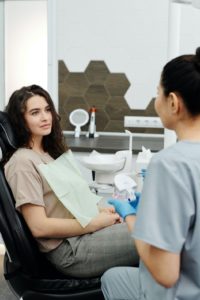 Your temporomandibular joint (TMJ) is located on either side of your face, connecting your jaw to your skull. It allows you to make certain movements necessary for everyday life, like speaking, chewing, and yawning. Unfortunately, these motions aren't easy for everyone. 12% of adults live with chronic jaw pain. If you have a TMJ disorder, you might believe the clicking sounds and facial pain are only a nuisance, but you're at risk of several complications without any treatment. Here's what you need to know about the consequences of ignoring your TMJ pain.
Risks of Untreated TMJ Disorders
A temporomandibular joint disorder (TMD) causes a variety of symptoms triggered by inflammation, stress, or damage to the jaw. It can cause several issues that affect your quality of life, like facial pain and tenderness, difficulty chewing, or toothaches. It's not uncommon to hear a clicking, popping, or grating sound when opening and closing your mouth. In some cases, your jaw may even lock in an opened or closed position.
While you can push through the pain, you're at risk of serious complications without the proper treatment. Although TMD isn't life-threatening, here's how it can affect you over time:
1. Sleep Disturbances
Research has found over 50% of patients with TMD also have poor sleep quality attributed to the chronic pain and psychological stress. Both factors can also increase the prevalence of bruxism. The habitual grinding and clenching can make it almost impossible to get a good night's rest. Instead of a reoccurring morning headache, you can also struggle with daily fatigue.
2. Dental Problems
TMD and bruxism often coincide, which can lead to dental damage. The pressure from the grinding can cause enamel erosion, loose teeth, and even tooth loss. A nightguard provides a cushion between the upper and lower teeth to protect your smile from unnecessary complications.
3. Asymmetrical Muscle Growth
When jaw pain is only experienced on one side, asymmetrical muscle growth can occur if you tend to favor the right or left when chewing. The imbalance will lead to a weaker muscle on one side.
4. Tinnitus
Chronic TMD can cause ringing or buzzing in the ears, called tinnitus. The constant ringing can contribute to stress, fatigue, depression, and memory problems. You can also experience increased anxiety and irritability.
5. Malnourishment
If your jaw hurts, you may not want to eat, which can lead to malnourishment if you're not careful. Despite the discomfort, it's essential you maintain a balanced diet by choosing softer foods.
You don't have to live with the challenges of TMD. Your dentist offers the solutions you need with TMJ therapy.
About Dr. Joe Ornelas
Dr. Ornelas earned his dental degree at the Indiana University School of Dentistry before continuing his education in advanced services, like TMJ therapy. He is a member of various professional organizations, including the American Dental Association and the Indiana Dental Association. If you're ready to stop your jaw pain and avoid the dangers of TMD, contact our office today to schedule an appointment.