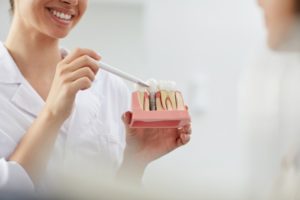 Tooth loss is an undeniable issue in the U.S. when you consider that more than 120 million Americans are missing at least one tooth. If you count yourself among them, then you understand the detrimental impact it can have on your smile, bite, and even speech. Fortunately, dental implants provide a durable, lifelike, and versatile solution! Read on to learn from your dentist in Crown Point about the various types of dental implants, the benefits they provide, and who is a viable candidate for this treatment.
What Differentiates the Dental Implant Options?
Dental implants are incredibly versatile since they can help patients missing one, a few, or an entire arch of teeth. To accomplish this, your implant dentist will recommend one of the following:
Single – As the name suggests, a single dental implant is designed to replace one missing tooth. An implant post is inserted into the jawbone and a dental crown is attached to the top, effectively restoring the entire tooth's structure.
Bridge – While a traditional dental bridge is anchored in place with two dental crowns, an implant bridge uses two durable implant posts. By inserting them into each side of the gap, this restoration can literally "bridge" the space, replacing several teeth in a row.
Denture – An implant denture is ideal for patients missing an entire arch of teeth. By strategically inserting dental implants throughout the jaw, the denture can be held in place with maximum durability and minimal movement.
Impressive Benefits of Dental Implants
Since there are so many options for tooth replacement available, you may be wondering why dental implants are considered the superior solution. Well, here are some stellar benefits to consider:
20-plus-year lifespan with proper care
Completely customized to your dental needs and smile goals
Lifelike in look and feel
Unmatched stability means no embarrassing slippage
No dietary restrictions
Hassle-free oral hygiene routine
What Makes Someone a Viable Candidate for Dental Implants?
Most people are candidates for this tooth-replacement solution! To find out for sure, however, it's important to schedule an appointment with a skilled implant dentist. They will conduct an oral exam to determine if you are all set or if you need to undergo a preliminary treatment like gum disease therapy or a bone graft to qualify.
Other requirements include a commitment to good oral hygiene and no unhealthy dental habits like smoking. Don't fret though – your dentist in Crown Point will review all the prerequisites in-depth during your initial consultation. That way, you can confidently decide on how to best proceed toward your dream smile!
About the Author
Dr. Joe Ornelas is a Crown Point native who earned his dental doctorate from Indiana University. He is a member of the American Dental Association and is diligent about his participation in the Master Series Study Club to stay current in the dental field. If you are interested after learning about the types of dental implants, Dr. Ornelas is partnered with Crown Point's best implant specialists, bone grafting is offered if you need it, insurance is accepted, and low-interest dental financing is available. Schedule a consultation on his website or by calling (219) 663-2892.