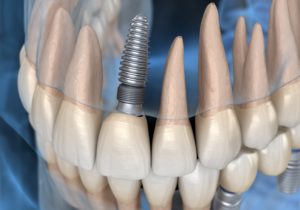 Losing any tooth can be devastating, but missing front teeth can affect your self-esteem significantly more than one in the back of the mouth. A bridge or partial can replace missing teeth; however, you have another option. You might be a candidate for dental implants. They can be used to replace any tooth, including the front teeth. You can fill the gap in your smile and boost your confidence using a method that looks and feels natural.
Replace the Root and Crown
Traditional tooth replacement treatments only recreate the portions of teeth above the gum line. Although they are effective, they will always have their limitations.
A dental implant is unique because it replaces both the root and crown, providing a nearly perfect replica of a real tooth. A titanium post is surgically placed into the jawbone to mimic a root. The bone fuses to the post to create a stable foundation for a custom-made restoration.
Candidate for Dental Implants
No matter which tooth you've lost, you can be a candidate for a dental implant if you have good oral and general health. Your dentist will perform a thorough consultation to ensure your mouth is healthy and you have the sufficient bone density to support the implant.
They'll also learn more about your medical history and any medications you're taking to look for any concerns about your body's ability to heal or fight infections. Some patients may need a little prep work, like gum disease therapy or bone grafting.
Benefits of Dental Implants
500,000 people every year are investing in dental implants and for good reasons. They provide unmatched benefits, including:
Reliable Results: Dental implants have over a 95% success rate.
Look Natural: Only a trained professional will know it's not a natural tooth, so you can smile confidently.
Feel Natural: A dental implant has the support of your jawbone to restore up to 70% of your natural biting force.
Long Lifespan: A dental implant is proven to last for 30 years or more with the right aftercare.
Improve Oral Health: A dental implant stops the jawbone from deteriorating to improve oral health. Not to mention, you don't need to alter healthy teeth to keep your dental implant in place.
Cost-Effective: You will never have to worry about budgeting for replacements to save money down the road. You'll also avoid many issues associated with tooth loss to reduce your overall oral health expenses.
If you have lost a front tooth, you don't need to hide your smile any longer. Your implant dentist can turn back the clock by filling the gap, so you'll always look and feel your best.
About Dr. Joe Ornelas
Dr. Ornelas earned his dental degree at the Indiana University School of Dentistry and remains up-to-date with the latest advancements in dentistry through continuing education. He is a member of many professional organizations, including the American Dental Association. If you are ready to invest in dental implants, request an appointment through our website or call (219) 243-5485.