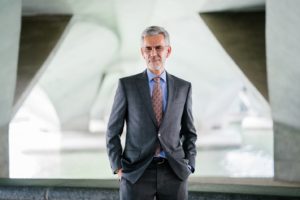 Every tooth is important for a healthy, attractive smile. Losing even one can have detrimental consequences for your oral and general health, but those aren't the only concerns. Your confidence is lost along with each tooth. Although you have many options to replace missing teeth, here are 4 cosmetic benefits you'll enjoy by completing your smile with dental implants.
1. Look Like Your Natural Teeth
Traditional tooth replacement methods only treat the surface of a tooth above the gum line. A dental implant is unique because it recreates both the root and the crown.
A titanium post is surgically placed into the jawbone to serve as a root, so it won't be visible from the surface. An abutment is attached to the post to connect a customized restoration made of high-quality materials to look like a natural tooth.
2. Preserve Your Jawbone to Look Younger
Research has found that missing teeth can make you look 10 years older from bone loss. You can lose 25% of your jaw's density within the first year of missing a tooth because it isn't being stimulated by the root. Your bone will continue to shrink as more time passes, causing your facial tissues to lose support, creating wrinkles and sagging skin.
As the only method to replace the root, a dental implant can turn back the clock. The post will keep your jaw strong and healthy to maintain a youthful appearance.
3. Prevent Additional Missing Teeth
Losing one tooth increases your risk of additional missing teeth as your jawbone weakens.
Treating a lost tooth with a dental implant preserves your jawbone to prevent additional missing teeth. You'll safeguard your smile and reduce your oral health expenses because you're less likely to need costly treatments later.
4. No Slipping or Irritation
Whether you're chatting with a friend, laughing, or enjoying your favorite meal, you won't have to worry about anyone noticing your teeth aren't your own. You'll never be embarrassed by your new teeth moving around or falling out.
Your dental implants will have the support of your jawbone to benefit from unmatched stability. You can regain 70% of your natural biting force using the next best thing to your real teeth.
Invest in the Best With Dental Implants
Cosmetic advantages aren't the only reason 500,000 people each year turn to dental implants to replace their lost teeth. They offer exceptional benefits, including:
Over a 95% success rate
Predictable, reliable results
Easy maintenance and care
An average lifespan of 30+ years
Long-term, cost-effective solution
Whether you've lost a single tooth, multiple teeth, or an entire arch, don't settle for anything less than the best. Invest in dental implants to restore a complete smile.
About Dr. Joe Ornelas
Dr. Ornelas earned his dental degree at Indiana University School of Dentistry and regularly continues his education in advanced specialties, like dental implants. He is a proud member of many professional organizations, including the American Dental Association and the Indiana Dental Association. If you're ready to replace your lost teeth, request an appointment through our website or call (219) 243-5485.