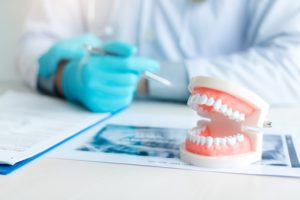 Completing your smile with dentures has many benefits. Not only do they instantly improve your appearance, but they are also relatively easy to maintain. Additionally, they provide the functionality of having a full set of teeth, such as eating and speaking with ease. However, your lower dentures may sometimes slip and have a hard time staying in place. Read on to learn the possible reasons for the slippage and tips on how to secure your smile!
Common Reasons for Loose Lower Dentures
Dentures are supposed to fit snugly and firmly in your mouth. If they don't, they are not fitting properly. Of course, in the beginning, there may be some slippage as you get used to your prosthetic. The following are other possible reasons your lower denture is not staying in place:
Poorly designed dentures – Many people choose to save on the cost of dentures by opting for cheaper varieties. However, these prosthetics are made from less durable and reliable materials. Since they are not well made, they are likely not to fit your mouth as they should.
Changes to the jaw – Tooth loss affects your oral health. Your jawbone can begin to deteriorate due to lack of stimulation. As a result, your gums are not able to adequately hold your denture in place.
A damaged denture – While dentures are relatively durable, they are still susceptible to breaking or becoming warped. If you use hot water to clean them or accidentally drop them, you risk damaging your prosthetic.
How Can You Secure Your Lower Dentures?
The key is to remember that you shouldn't settle for ill-fitting dentures! If your lower dentures are slipping out of place, it's important to visit your dentist so they can get to the bottom of the issue. They may suggest:
Denture adhesive – Though dentures typically will stay in place with natural suction, adding adhesive can help stabilize them until your dentist can adjust your restoration.
A denture reline – This process involves adding material to the denture's base for a snugger fit. The bonus is the reline can be completed in a single appointment.
A new denture – If your prosthetic is too badly damaged or significantly poor quality, you may need a brand new one.
Implant dentures – These dentures provide long-lasting and reliable security by attaching them with small biocompatible titanium screws that are surgically inserted into the jawbone. This keeps them firmly in place, with no worries of slippage while you eat, speak, and laugh.
About the Author
Dr. Joe Ornelas keeps the smiles of Crown Point whole, healthy, and beautiful. He earned his dental doctorate from Indiana University School of Dentistry and is an active member of several dental associations. With a goal of improving not only your smile but your oral health, he can assist you with any of your restorative dental needs, including loose dentures. To schedule an appointment, contact him through his website or call (219) 663-2892.