Single Tooth Dental Implant – Crown Point, IN
Superior Results From Whole Tooth Replacement
Unfortunately, there are countless reasons for tooth loss, which explains why an estimated 120 million people are missing at least one tooth. But while many people think it isn't "a big deal," the truth is that even missing one tooth leads to bite and alignment issues, loss of jawbone, gum problems, and additional tooth loss. Not to mention less self-confidence! Replacing missing teeth with dental implants in Crown Point is a great way to prevent all of these issues and beautifully restore your smile for life. If you've lost a single tooth, contact us today to schedule a consultation with Dr. Ornelas. He performs every step of the procedure in-office and has helped many people experience the long-lasting benefits of implants.
Single Tooth Replacement Options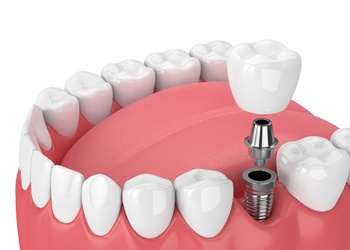 There are two main options for replacing a single missing tooth: a fixed bridge and a single dental implant. One main difference is that a bridge only replaces the crown of a missing tooth while an implant replaces both the root and crown. Here are the basics of how each one works:
Fixed bridge – A bridge is a non-removable restoration that uses the two remaining teeth on either side of a gap to "bridge" the missing space with a dental crown. These two teeth are both reduced in size to accommodate dental crowns, which are then attached to the single crown in the middle. A bridge can last 10-15 years, but the area underneath and around it needs to be carefully cleaned to avoid cavities or gum problems around the two anchor teeth.
Single dental implant - A single implant is a surgical-grade titanium post that takes the place of a missing root. The implant is completed with a dental crown that's made of a strong material such as porcelain or ceramic and matched to the existing shade of your smile to look very natural. After the implant itself is placed, it usually takes 3-6 months to fuse with the surrounding jawbone before the crown can be attached.
The Benefits of Single Implant Restoration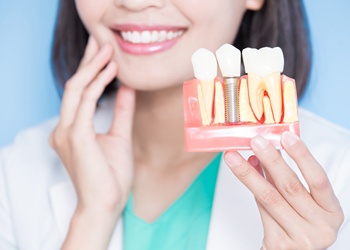 As a dentist in Crown Point, Dr. Ornelas loves using dental implants because they provide so many benefits, including:
Enhanced self-confidence – The importance of self-confidence can't be overstated. Implants look, feel, and function so naturally that you may forget you ever lost a tooth to begin with.
Superior chewing strength – Since implants replace the roots of missing teeth, they mimic natural teeth and give you much more chewing strength to eat hard or crunchy foods.
Can last a lifetime – Whereas a fixed bridge only lasts 10-15 years, an implant can last 30 years or more.
Doesn't affect healthy teeth – A single implant doesn't impact the adjacent teeth like a bridge does.
Maintains your jawbone – Your body will think a natural tooth is still present, so your jawbone and facial structure will be preserved.